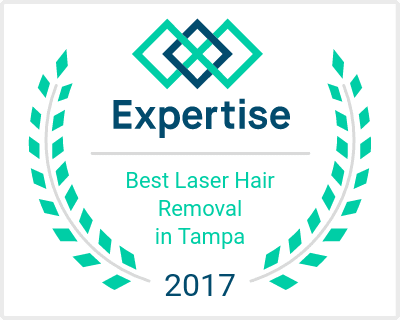 Body hair is a nuisance, but spending the time, money, and effort to shave and wax that hair away on a regular basis is even more frustrating. At Ultimate Image Cosmetic Medical Center in Tampa Bay, we are ready to solve that problem for you with our Lumenis laser hair removal services. Lumenis is the leading laser technology that has become the industry's 'Gold Standard' in permanent laser hair reduction.
The Need for Laser Hair Removal
Traditional hair removal for men and women alike is problematic and time consuming. Many men struggle with razor burn and ingrown hairs when they shave their thick five o'clock shadows, while women find themselves having to shave or wax on a regular basis to maintain silky smooth skin. Rather than endure the same temporary hair removal methods for years to come, let the experts at Ultimate Image use the new Lumenis LightSheer Desire technology to quickly, comfortably, and efficiently zap away your unwanted hair for good.
Precise Hair Removal with Lumenis LightSheer Desire
The Lumenis LightSheer Desire represents the newest generation of permanent laser hair reduction technology. The team at Ultimate Image is specially trained with the LightSheer Desire system to deliver fast, comfortable, and effective laser hair reduction on any targeted areas you specify.
Lumenis LightSheer Desire uses an advanced High-Speed Integrated Technology (HIT™) blended with a ChillTip™ to increase the efficacy of each treatment. With HIT™, a vacuum gently draws your skin into the handpiece to stretch it thin and pull the targeted hairs closer to the laser energy source. The ChillTip™ helps cool the skin before and during treatment, which increases your comfort and generates more dramatic results. Once the laser energy is applied, your targeted hair follicles become permanently damaged. Some may never grow back again, while others will grow back significantly lighter and thinner than before. These results steadily improve after each treatment until your skin is free of all unwanted hair.
The Benefits of Lumenis Laser Hair Removal
When you trust Ultimate Image with your laser hair removal needs, you will enjoy a treatment time that is 75% faster than ever before! The Lumenis LightSheer Desire technology is specifically designed to accelerate treatment while actually removing more hair and maintaining a consistent sense of comfort. The results of Lumenis laser hair removal are undeniable.

Large body areas can be treated in record time, sensitive skin can be treated with virtually no pain, and even light colored hair can be effectively targeted and removed.
Ultimate Image is here to help give you the smooth, silky skin you've always wanted. You are only a few laser hair treatments away from never needing another razor or waxing session again! Call Ultimate Image today to learn more and find out exactly how our Lumenis technology can transform your skin- and your life.